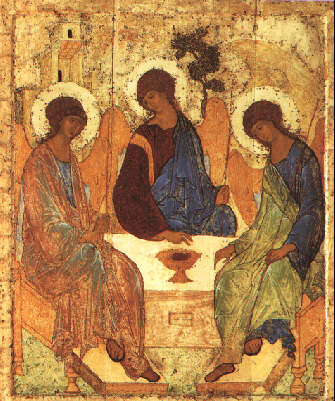 Andrei Rublev (ca. 1370 - 1430)
The Trinity. 1420s.
The State Tretyakov Gallery.
&nbsp As any great artist, Andrei Rublev succeeded in not only achieving a high degree of perfection and spirituality in his art, but also in expression the most important ideals of life contemporary to him. His famous "Trinity", one of the finest icons of the State Tretyakov Gallery collection, dedicated to the memory of the great champion of the uniting of Russian lands, St. Sergius of Radonezh, is the embodied symbol of the ideals of spiritual unity, all-encompassing love and self-sacrifice.
&nbsp Allegorical conversation between the Angels is the main idea. The icon has the gentle and light-hued palette and laconic linear drawing. The master used blue colour of the different hues for the Angel clothes. This colour is a symbol of the sky and God. Bright yellow tone is used to distinguish the blue tone in contrast to it. The icon represents harmonious colouring and a solemn style.
&nbsp Numerous copies of the Rublev's "Trinity" were made by masters of the different art schools of the North-East Russia. Some of them you can see in the State Tretyakov Gallery.