The Pokrovsky Cathedral
( the Cathedral of St. Basil the Blessed )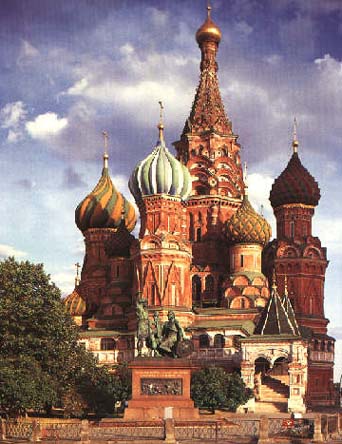 Moscow. Red Square. The Kremlin with its ancient walls...
It is impossible to imagine for ourselves Red Square without very famous all over the world and inimitably beautiful architectural monument of the 16th century - the Cathedral of the Intercession ( the Pokrovsky Cathedral ), more known as the Cathedral of St. Basil the Blessed. The second name was given almost fifty years after the Cathedral was completed when a god's fool ascribed to be St. Basil the Blessed was buried there in its walls. The St. Basil's Cathedral was erected in 1555-1557 to commemorate the Russian military glory, it is a memorial to all heroes had fallen in the age-old struggle against Tartar oppression, during the smashing of the Kazan Khanate. The Cathedral was created by remarkable Russian architects Barma and Postnik, which were far ahead of their time and surprizingly anticipated the features of the 17th century architecture.
The St. Basil's Cathedral is the architectural masterpiece and the splendid example of columnlike marquee stone Russian folk architecture. Its eight towers are placed on a high ground floor and have very nice colourful, ridged onion-shaped cupolas. They surround the ninth central octagonal tower topped by a high piramidal tent roof with a small cupola. The Cathedral is decorated by numerous folk architectural elements: figured niches, "kokoshniki" ornaments, rusticated columns, pilasters, windows and portals.
Since 1929 the Cathedral is a Branch of the State History Museum. The exposition of the St. Basil's Cathedral museum tells us about the Cathedral as a historical, architectural and art monument of the 16th century.
The sections of the museum demonstrate the arms of newly formed regular Russian army of the 16 - 17th centuries, so called "strelitz" regiments: a lot of helmets, coats of mail, damask sabres, maces, primitive weapons, such as boarspeares, axes, etc.
In the restored interiors of the Cathedral towers - churches is exhibited the ancient Russian icons of the 15 - 16th centuries, belonging to the best samples of the Novgorod and Moscow art schools.
There are excellent works of applied art executed by Russian masters of the 16 - 17th centuries: artistic embroidery, fabrics, wonderful specimens of metalware.
The ensemble of the Cathedral square incorporates the monument to Kuzma Minin and Dmitry Pozharsky, built in memory of their role in formation of Russian people army during Polish intervention in the beginning of the 17th century. The monument was established in 1818 by sculptor Ivan Martos.
The museum is opened: 10.00 - 16.30, except Tuesday.
The museum address: Red Square.
Tel: 298-33-04